Overview
A Bunion is one of the most common foot ailments which usually occur near the joint at the base of the big toe. It is actually a bony protrusion which consists of excess or misaligned bone in the joint. Although they may develop on the fifth or little toe, bunions usually occur at the base of the big toe. In addition to causing pain, a bunion changes the shape of your foot, making it harder to find shoes that fit. The good news however, is that you don?t have to hobble for the rest of your life, bunions can be treated.
Causes
Bunions can be caused by improper footwear. Genetics. Foot injuries. Congenital deformities. Medical conditions such as arthritis. Stress on feet. Bunions are mainly caused by genetics. The bunion itself is not inherited, but the person?s hereditary foot type and gait pattern makes them more prone to developing bunions.You can also begin to develop bunionsby wearing shoes that are too tight or too small. When you wear shoes of this nature, your toes are squeezed together. Bunions are not caused by crowding of the toes, but wearing tight shoes can worsen the condition and cause symptoms to appear sooner. Some people are born with birth defects that put them at higher risk for developing bunions.
Symptoms
The skin over your big toe may be red and tender. Wearing any type of shoe may be painful. This joint flexes with every step you take. Your big toe may angle toward your second toe, or even move all the way under it. The skin on the bottom of your foot may become thicker and painful. Pressure from your big toe may force your second toe out of alignment, sometimes overlapping your third toe. If this condition gets severe, it may be difficult to walk. Your pain may become chronic and you may develop arthritis.
Diagnosis
Your doctor will be able to diagnose a bunion by asking about your symptoms and examining your feet. You may also have blood tests to rule out any other medical conditions, such as rheumatoid arthritis or gout, although this is rare. Your doctor may refer you to a podiatrist or chiropodist (healthcare professionals who specialise in conditions that affect the feet).
Non Surgical Treatment
The choice of treatment for a bunion lies between non-operative (conservative) and operative treatment. Conservative treatment for a bunion means either wearing wider fitting shoes or shoes with softer leather or using some form of a spacer between the big toe and 2nd toe (or alternatively some form of splint to keep the great toe away from the 2nd toe). The spacers or splintage may apparently straighten the bunion but they make no difference to the width of the foot, and the splaying of the 1st and 2nd metatarsals which occur with a bunion deformity. Therefore this type of treatment will not improve the main pain in a bunion which occurs due to the width of the forefoot. An arch type support orthotic may be useful if a bunion is associated with a flatter foot. If you have a bunion this is however just one other thing to get into a shoe with an already wide foot.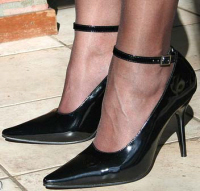 Surgical Treatment
If your bunion has progressed to the point where you have difficulty walking, or experience pain despite accommodating shoes, you may need surgery. Bunion surgery realigns bone, ligaments, tendons and nerves so your big toe can be brought back to its correct position. Orthopedic surgeons have several techniques to ease your pain. Many bunion surgeries are done on a same-day basis, requiring no hospital stay, using an ankle-block anesthesia. A long recovery is common and may include persistent swelling and stiffness.
Prevention
Wear insoles and well-fitting shoes to help slow down the progression of bunions and alleviate discomfort. Cushioning can also help alleviate discomfort. Consider wearing shoes with a wide toe box so they don't crowd your toes. Children can also develop bunions and should wear properly fitting shoes as their feet are still developing.